This is a 2.5 mile circular walk around the central part of the City of Gloucester.
The route is way marked and includes artwork depicting the different elements of the city and identifying buildings and events of historic interest. 'Look' signs point out items of interest to see on the walk. All the direction signs, the 'Look' and the artwork have been stencilled onto the pavement, onto a red brick-sized rectangle. Wherever possible, the direction signs, represented by arrows and shoe prints, are every 10 paces. The route is designed to be walked in a clockwise direction. The trail can therefore be started at any point.
The Art Trail is specifically designed to encourage Gloucester citizens and visitors alike to discover Gloucester City: enjoy a walk with the opportunity to find out more about the City and visit parts of the centre maybe they would not otherwise visit.
The trail has been sponsored by Gloucester Business Improvement District.
The artwork is by 'DECAY' and 'JO'.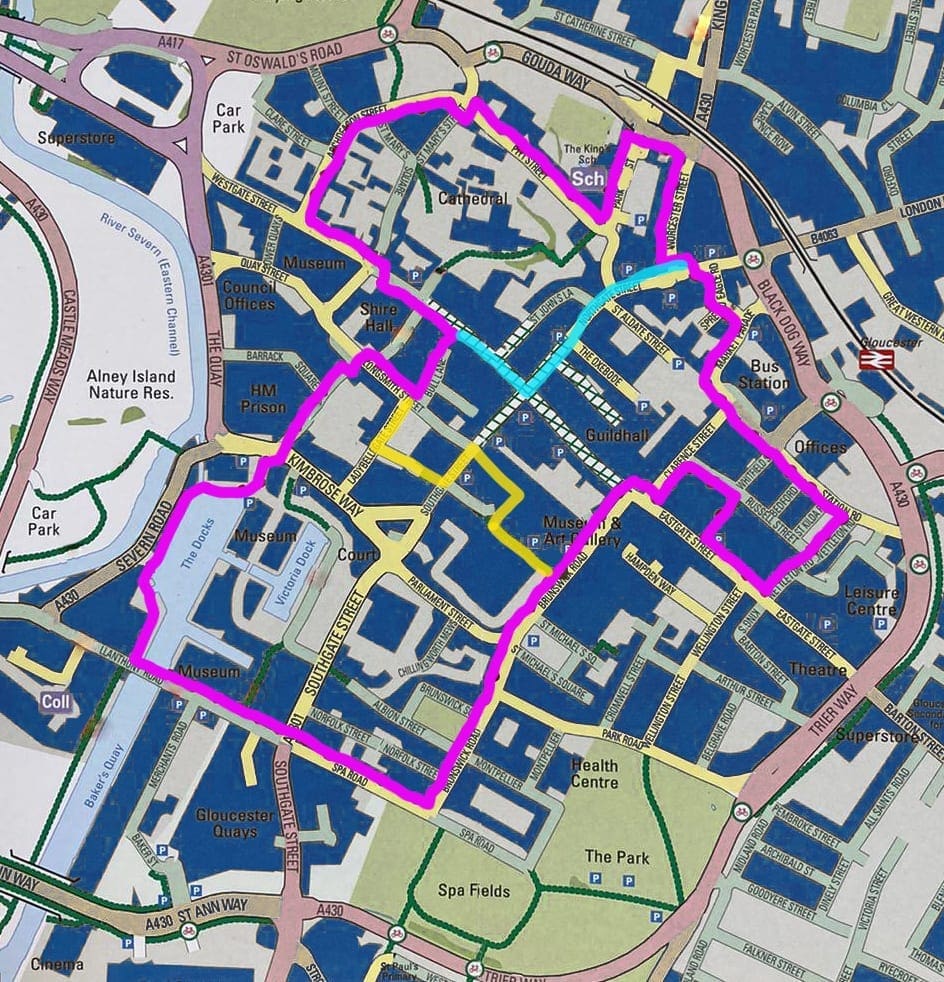 The route is circular, any point can be the start point.
The following instructions start at Boots junction of Eastgate St / Brunswick Road / Clarence St, near the Museum, and circles Clockwise.
The "(numbered notes)" refer to the 'Additional Points of Interest' table below.
| | |
| --- | --- |
| Route Description | Points of Interest |
| Brunswick Road | Shops etc |
| Along Brunswick Road | Murals, museum (1) , library (2) (3) (4), Brunswick Square (5) (6), Christ Church (7) (8) |
| Right on Spa Road | Spa (9); Judges Lodgings; old Registry office |
| Straight across onto Llanthony Road | (10) Cafes, restaurants, Quays (11) shopping mall |
| Straight along to cross docks / canal bridge | Docks; lifting bridge |
| Over bridge, immediately Right | Boats |
| Through car park, over two foot bridges | Dry docks |
| Alongside docks basin to end |   |
| Right over dock gates | Entrance to River Severn |
| Straight along to end of warehouse | North Warehouse; two World Record sites |
| Left to exit docks | Water pump; historic buildings |
| Cross Commercial Road at pedestrian lights |   |
| Straight along Barbican Way | Prison (12); site of castle; Police station (13); old fire station (14) |
| Right, over zebra crossing and right: Longsmith St | Court house (15); historic buildings (16) (17) (18) |
| Up Longsmith St to junction with Bull Lane | (19) Telephone exchange (20); historic buildings  |
| Left onto Bull Lane | Artwork on multi-story car park (21) |
| Along Bull Lane to the junction with Westgate St | (22) Views of Cathedral; artwork on buildings |
| Left on Westgate St | (23) Historic buildings; cafes / restaurants and shops |
| Westgate St | (24) (25) (26) (27) (28) Cathedral; Shire Hall (29) (30) (31) (32) ; Dick Whit's (33) ; St Nicholas's Church (34) (35) ; Folk of Glos Museum (36) |
| Right onto Archdeacon St | St Mary de Lode Church (37) (38) |
| Archdeacon St | (39) Ancient Severn crossing; St Oswald's Priory (40)  |
| Straight across onto Pitt St | (41) Kings School and (42) Cathedral;  |
| Along Pitt St to junction with Park St | (43) Historic buildings |
| Left onto Park St | (44)  |
| Along Park St | Historic buildings |
| Junction with Gouda Way, turn right, cross at lights |   |
| Gouda Way | (45) Tanners Hall (remains) |
| Right at junction with Worcester St |   |
| Along Worcester St to junction with Northgate St | Shops |
| Turn left at pedestrian crossing, cross Worcester St and along Northgate St |   |
| Cross right, over Northgate St at junction with Spread Eagle Road |   |
| Along Spread Eagle Road, straight across towards Transport Hub | (46)  |
| Right onto Market Parade |   |
| Remain on Market Parade cross Clarence St | Kings Quarter redevelopment area |
| Continue on Station Road | Buss station / Railway station |
| Continue to junction with Nettleton Road |   |
| Right onto Nettleton Road | (47) Painted terraced houses |
| Continue to end of road, junction with Eastgate St |   |
| Right onto Eastgate St | (48) Night time economy zone |
| Continue along Eastgate St to alleyway at bus stop, turn right into alleyway | (49)  |
| Along alleyway to the end, turn left onto Russell St | (50)  |
| Along Russell St | Legal quarter |
| Continue to end of Russell St, junction with Clarence St, turn left |   |
| Along Clarence St to junction with Eastgate St / Brunswick Road. | (51) Bus Station / Shops (52) (53) |
| Circuit completed. |   |
Additional Points of Interest
 1. Museum
Linked to the Library and the original School of Science and Art, 1872.
 2. Library
Adjacent to the School of Science and Art, the Library was built in 1900, to mark Queen Victoria's Diamond Jubilee. The school moved in 1941 further along Brunswick Road.
 3. Site of Technical College
Built 1938 to 1941 in Art Deco style on area known as Friars Orchard, part of the Greyfriars grounds. Vacated in 2007 and demolished in 2012 to make way for the current development of housing. The original main doors have been incorporated into the development.
4. St Michael's Square
Gloucester born Hubert Cecil Smith (1871 – 1955) lived here. He invented the vacuum cleaner and was a designer of Ferris Wheels, including those installed at Earl's Court in London, Blackpool, Paris and Vienna.
5. Street art by Beastie
One of several multiple-stencil art works around the city by Gloucester based Beastie.
6. Brunswick Square
Site of a siege gun during the siege of Gloucester, 1643.
7. Christ Church
Built 1822, consecrated 1823. Originally The Spa Church, built for the Spa. The Romanesque front was added in 1899 – 1901.
8. Gloucester Spa
Site of the Spa. A saline spring some 80feet below ground was discovered in the early 1800's. The Pumphouse was built in 1815 and extended to incorporate various Spa facilities. In use to 1926 when the waters became contaminated. Demolished 1960 following neglect by the City authorities.
9. Spa Road buildings, circa 1820's
Many fine buildings and hotels for the accommodation of visitors to the Spa, including Prime Minister William Gladstone's parents.
Spa Hotel, built 1818, renamed Ribston Hall following relocation of a school (now on Stroud Road).
Old Registry Office, now converted to apartments.
A number of buildings were used as Judges Lodgings when the judiciary travelled to undertake trials.

10. Crossing to Llanthony Road
Street art by TRIX, 2015.
11. Quays and Historic Docks
Status of a Port was granted to Gloucester in 1580 by Queen Elizabeth I.
Gloucester – Sharpness canal built 1794 to 1827, largely by Thomas Telford. 16 miles long with no locks except at either end to access the River Severn.
Lifting bridge over the canal built 1970's.
Main Basin built 1794 to1812.
Surrounding warehouses largely completed by 1846, to hold corn: wheat, barley, oats and maize. Many now converted to apartments or offices.
Dry Docks. Built 1818 and 1853 for ship repairs. Still in commercial use.
Lock to River Severn accommodates vessels up to 400 tons carrying capacity.
North Warehouse. Site of two World Record Breakers:
• Alan Myatt, Town Crier, 30th March to 1st April 1991 for the loudest cry and for crying a 100 word proclamation every 15 minutes for 48 hours;
• Jamie McDonald, adventurer, 8th to 20th December 2012 for the Guinness World Record for marathon static cycling.
Drinking Fountain provided by the Local Board of Health in 1863.
12. Barbican Way: Site of Castles and Prison
The current lane is just west of the Roman Wall. The original Norman castle was on the east side (2021 development for student accommodation) and was mentioned in the Doomsday Book of 1086. This was replaced by a medieval castle on the west side, circa 1120. This was a Royal Residence to the mid 1300's, then a strong point and finally a prison. The current building is Gloucester Prison, which was decommissioned in 2013.
13. Police Station
Gloucester's central Police Station.
14. Original Fire station
Opened in 1913, replacing the Insurance Company fire brigades for one City Fire Brigade. Closed in 1956.
15. Courts of Justice

Grade II listed building.

16. Bearland House
1740's. Original site of the Girls High School, now in Denmark Road.
17. Bearland Lodge
Circa 1700's. The pediment features Minerva, daughter of Jupiter, probably from Ladybellegate House.
18. Ladybellegate House

Circa 1700's. Occupied by the Raikes family 1735 – 1772. Robert Raikes founded the Sunday School movement and his statue can be seen in Gloucester Park with a duplicate on the Thames Embankment in London.

19. Bull Lane
Artwork on the multi-story car park by 'Beastie', 'Shab' and 'Decay', in 2015.
Bull Lane was previously Gore Lane, on account of the number of slaughter houses. The last building on the lane at Westgate Street indicates a slaughter house by its unusual doorway.

20. Telephone Exchange
The brick building was built in 1939 and housed the many ladies that worked the manual telephone exchange equipment.
21. Artwork

More good examples of street art at 2 Bull Lane, by, amongst others, Decay and Beastie.

22. College Court

Alleyway leading to the Cathedral. Beatrix Potter's 'Taylor of Gloucester' is based here and includes the building sketched by her for the Taylor's house, in 1897.

23. The Sword, Public House
Once owned by the City Sword Bearer, Raymond Messengers.
24. No. 47 – 49
Previously one dwelling, an early 18thCentury merchants town house, divided into two properties around 1750. Boasts an extensive cellar with barrel vaults, and a substantial 13th century barrel vaulted undercroft – a true hidden gem.
25. The Fountain Inn
Old coaching inn since Henry III (13th century). Became The Fountain Inn in the 17th century, named after the public fountain in Westgate Street.
26. No. 52 – 54
Birthplace of Sir Charles Wheatstone, Victorian physicist. Associated with Alexander Graeme Bell and linked to the invention of the telephone. Also a major player in the invention of the telegraph.
27. College Street / West Gate

Grand main entrance to Gloucester Cathedral. Site of the West Gate leading to the bridges over the River Severn. The gate to the Cathedral is King Edward's Gate, 13th century and remodelled in the 16th and 19th centuries.

28. No. 66
Built 1450, has historic elements of interest on the first floor.
29. Shire Hall

Built 1957, retaining the Ionic portico from the previous Shire Hall of 1816.

30. The Booth Hall
1230 – 1957. Was the Guildhall Assize Court, theatre, concert hall and cinema. Shakespeare is reputed to have acted here. George Whitefield preached here.
31. Three Cocks Lane
Name of an 18th century Inn. The cherubs and City Arms came from the Booth Hall.
32. The Old Crown Inn
1460 – 1760; restored 1990. Headquarters of Colonel Edward Massie (23), during the siege of Gloucester in 1643.
33. Dick Whittington's
Town house of the Whittington family of Pauntley near Newent. Dick Whittington was born in the 1350's and aged 13 was sent to London as an apprentice banker, where he made his fortune. The building became a public house in the early 1970's.
34. Saint Nicholas' Church

Established in the late 12th century and dedicated to sailors and associated docks trades. Was originally close to the banks of the third arm of the River Severn (now gone) and custodian of the Westgate Bridge. The West tower was built in the early 15th century and tilts to the north-east. A direct hit by the Royalist artillery in the siege of Gloucester in 1643 resulted in the tower being shortened to half its original height of 200ft in 1783.

35. Hyett House

A fine 16th century merchants house, restored 1988.

36. Folk Museum
Built around 1540's. Originally a garment manufacturing and shop, then used for pin making: this was a major industry from 1740.
37. St Mary de Lode Church

The City's oldest parish church, named for its proximity to a ferry crossing of the 3rd arm of the River Severn.

38. View to St Mary's Gateway to Gloucester Cathedral and Bishop Hooper's Monument
St Mary's Gateway is first recorded in 1190 as the main entrance to what is now the Cathedral. The monument was erected in 1862 to mark the site of Bishop Hooper's execution by fire in 1555.
39. St Oswald's Priory

Original elements from around 900 AD. Founded by Aethelflaed, daughter of Alfred the Great. Numerous alterations and additions have been made over the centuries. The remains are part of the north arcade of the nave.

40. Pelican Inn
A pub from at least 1679. So called as it claims to be constructed using timbers from Sir Francis Drake's ship The Golden Hind, which was renamed mid-voyage from The Pelican.
41. King's School
Founded 1541 following the English Reformation by a direct Royal Proclamation of King Henry VIII. However a school in the grounds of the Cathedral existed from around 1100.
42. North entrance to the Cathedral
Entrance to the Cathedral grounds. The ruins are the 13th century Infirmary.
43. Court of Probate
Former Gloucester Court of Probate, a Grade II listed building in the Gothic style. Built late 1850's at a cost of £1,100.
44. Park Street Mission Rooms

Originally a Quakers Meeting Room from 1678 to 1834, whereupon they moved to a site adjacent to Greyfriars. The existing mission was established in 1867 and was rebuilt in 1903. It closed to services in 2020.

45. Tanners Hall
Originally a merchant's house built entirely of stone in the 13th century. Taken over by tanners in 1540 and in use as a tannery until the 18th century. The remains of this building is incorporated into a development for accommodation in 2020.
 46. Bus Station / Transport Hub
New bus station opened 2018.
 47. Nettleton Road
In 2018 the terraced houses were painted in various colours to make a colourful street scene.
 48. Eastgate Street
Street art by Beastie.
 49. View to Norville's
Local opticians, possibly provided Ghandi with a pair of his iconic round spectacles.
 50. Russell Street
Gloucester's legal quarter. Artwork by Beastie at two points on the street.
 51. Boots Corner / East Gate
Site of the East Gate. Excavations showing Roman wall and elements of the gate and surrounding structures, around 60's AD and rebuilt several times. Severely damaged in the siege of Gloucester 1643. The structure was used for several purposes over the centuries, including a Women's Prison, House of Correction, Council Meeting Chamber and school. Demolished 1778.
52. Joseph Clay, JP
Site of an early Co-Operative store. Mr Clay was one of the founders of the Gloucester Co-Operative Society. Died 1901.
53. John Jennings
1840 – 1923. Master Printer. Caxton House dates from 1883 and was built to house the printing works that Jennings developed as well as being the family home.
Artwork: themed generic and 'one-off' stencils.
Roman icon for Boots corner 

Book for Library

Technical implement for old Technical College

Siege gun for Brunswick Square

Spa icon for Spa site

Flour sack for Quays / docks area

Skull and Crossbones for Quays / docks area

Portcullis for Barbican Way / Prison

Police hat and car at Police station

Fire engine at old fire station

Telephone for Longsmith St / Bull Lane

Bull and peppers for Bull Lane

Mouse for Taylor of Gloucester (Beatrix Potter) for Westgate St

Pizza slice (sponsored by Hooker & 8) for Westgate St

Beer tankard (at each pub)

Church icon (at each church and adjacent to Cathedral access points)

Shire Hall icon 

Cat for Dick Whittington

Museum icon for Museum of Life and Gloucester museum

Rowing boat for St Mary de Lode and in docks

Ruins icon for St Oswald's Priory and Greyfriars

Tanners hall icon 

Bus icon for bus station and Clarence St

Taxi icon

Dancing figures for Eastgate St and Brunswick Road

Legal wig icon for Longsmith St, Russell Street and Spa Road