STREET CLEANLINESS
CURRENTLY IN SOME AREAS OF THE PROPOSED BID CLEANLINESS IS BELOW ACCEPTABLE LEVELS.
The BID propose to tackle this to support the night time and daytime economy in the following ways:
MONITOR & FEEDBACK
on the existing street cleaning to ensure that the job is being done as it should be
INTRODUCE A SUBSIDISED
"Clean Squad" service for BID members and BID voluntary members.  If there is rubbish dumped outside your property  it can be reported via a newly established hotline and removed
USE GROUP PURCHASING POWER
of the BID to provide higher quality and lower priced commercial waste services.
USE PROPOSED CITY PROTECTION OFFICERS
to report when levels of cleanliness are below standard or specific incidents for example fly tipping
UPDATES
SEE OUR LATEST NEWS FEED DIRECTLY ON EACH FEATURED PAGE OR GO TO OUR NEWS PAGE TO FIND OUT MORE INFORMATION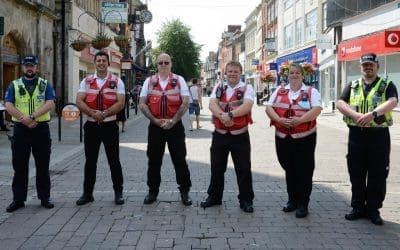 The graph shows the data for August 2021, supplied by Gloucester City Safe89 x Police CCTV Incidents attended for August 2021 Highlights for the Month 1st- Removed a small group of street drinkers from the graveyard at Grey Friars, one got aggressive, but he...