Business in Focus with Josephine Bartosch from the Furniture Recycling Project

The Furniture Recycling Project (FRP) is a charity that has long been at the heart of the city of Gloucester. Their aim is to 'Create a Better Community' and that is exactly what they do.  FRP offers a county-wide free collection service for donations of used furniture and white goods. Teams of volunteers are trained to clean, repair and deliver what is donated before it is displayed ready for sale in FRP shops.  All funds raised through sales are reinvested so this exceptional local charity can continue to support those in need.
From its roots in the Matson Community Project, FRP has grown over twenty-two years to serve thousands of households across Gloucestershire.  In the past year alone FRP have saved a total of 18820 items from being dumped in landfill. Though the charity has gone through many changes, they've stayed true to their roots – focusing on creating better communities.
Community Projects
Community projects are at the core of what FRP does. These projects offer in-house training and work experience opportunities in retail and craftsmanship to vulnerable adults and those with barriers to employment from across the county.
The volunteer placements run for 6 – 8 weeks. In this time, volunteers learn valuable skills in the workshop, from electrical repairs and PAT testing to woodwork, upcycling and upholstery. FRP also offer retail training at their shop on Eastgate Street and further work experience with deliveries, warehousing, and administration.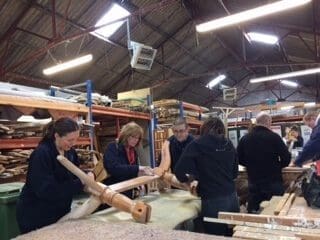 FRP placements are offered to individuals and a range of local organisations including GARAS, the National Star College and The Nelson Trust. These opportunities are extremely valuable and have helped many adults across the county, giving them the skills and experience needed to secure jobs and further develop their futures. This year alone they've had 72 volunteer placements, with some being kept on as employees.
As a Gloucester charity, they receive support and donations from local businesses, including Barnwood Construction, Jane Bick Interiors and Dr Fosters at the docks. We asked Jo her thoughts on Gloucester, "there's a real sense of community across the city, with a great deal of diversity and history, there's always plenty going on."
It seems FRP is set to expand, Jo explains:
"we've exciting plans to extend what we offer to neighbouring towns and are currently looking for new shops in Cheltenham and Tewkesbury.  Our electrical reuse centre has been redesigned so that we will be able to offer more volunteer training opportunities in our electrical department. We were absolutely delighted to have been nominated by Cllr Joanna Brown, the current Mayor of Gloucester, for the Queen's Award for Voluntary Service."
For a small charity FRP have a big reach; their work benefits individuals, communities and the wider environment.  FRP harness the good will, talent and enthusiasm of Gloucestershire businesses, charities and people to build a better community.