Choosing the right Childcare provider for your little ones is an important decision. Which Nursery should you choose? We met up with Sarah & Russell, owners of local independent nursery, Hugo & Holly Day Nursery to discover more about the services they offer and the growth of their business in the city.
Hugo & Holly Day Nursery are an innovative day care nursery that provides outstanding childcare from their premises in Brunswick Square and Heathville Road. Standing out from the crowd, they have a slightly different approach to childcare and education, closely linked to the Reggio Emilia principles – encouraging the children to think creatively and explore their interests.  They provide support and flexibility to parents from across the city, caring for around 100 children, aged 0 – 5, 5 days a week.
They first opened their doors to parents in 2004. At this point, owners Sarah & Russell were living in Brunswick Square – Sarah was working in primary education as a creative arts teacher and Russell as an optician.
Sarah felt that primary schools were slowly neglecting a hands-on, creative approach to children's education. Having much faith in these methods, an opportunity arose next door to their home – a property had become available. The idea sprung to mind of opening a nursery, a place where Sarah could implement a creative and nurturing approach to learning in a way that would better benefit and stimulate young minds. They bit the bullet and purchased 3 Brunswick Square.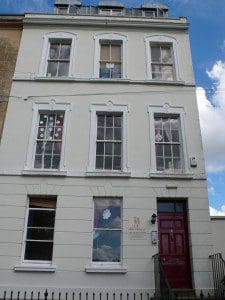 Success flourished for the company and within 3 years they had purchased a 2nd property on Heathville Road, enabling them to expand their team and open their doors to more children.
They currently have 30 staff working across both of the premises – a big extended family! The care industry is known to have quite a high turnover, but not at Hugo & Holly's … a whopping 80% of their staff have been there for 10 years, demonstrating a very positive environment, commitment and staff morale.  Keeping consistent with the principles, staff are encouraged to work creatively and bring their own personal methods into the workplace to further support the children and keep them open-minded.
Both settings are warm and welcoming, with plenty of facilities and space for children to learn, develop and explore. The continued growth of the company has enabled them to extend their Heathville property, giving the children more interactive facilities and outdoor space.  But not all the learning is done inside, Sarah and the team have taken the children to local nursing homes for the day to interact with the elderly,
"It's a great opportunity for the children to socialise and be inspired by those with a lifetime of stories, and for the residents of the home, it adds a spark of joy to their day!"
With two premises in Gloucester, we asked Sarah why she decided to set up in the city,
"The location for our first property was perfect, being next door to our home gave us ease of access tied in with stunning views to the docks. We also love the community in Gloucester – we have such wonderful parents that are so supportive of the children and the business."
Sarah, Russell and their team have a huge passion for childcare and their methods are inspiring. If you've got a little one on the way, you're needing childcare support or looking for a fantastic job opportunity then be sure to get in touch with them.
Keep up to date with Hugo & Holly Day Nursery.
Give them a follow on Facebook or head to their website.