Gloucester's Kings Square and Eastgate Shopping Centre are partnering with Gloucestershire Police and Gloucestershire Fire and Rescue to celebrate Emergency Services Day this Saturday, 25th February.
From 10am-2pm there will be activities on Kings Square and Eastgate Shopping Centre, designed to support and raise awareness for the emergency services, both locally and nationally.
A new 'Safe Space' scheme will also be launched in Gloucester during the event, which provides safe and secure places for women to go to if they are being followed or feel under threat in any way. A number of businesses in the city have already signed up to the scheme, which was initially set up in Stroud last year and is now being introduced to Gloucester. The founder, Chrissy Lowery, will be attending this weekend and handing out personal attack alarms to women and girls at Eastgate Shopping Centre.
Chrissy Lowery has been working with Gloucester City Safe to expand the Safe Space scheme into Gloucester. She says,
"Businesses signing up to the scheme will support anyone who feels threatened, scared or at risk as they can walk into any of the premises which display a Safe Space sticker. You then tell a member of staff that you need a safe space".

"Once inside, you will be supported by a member of the scheme who will provide you with a safe and discrete way to reach police, friends, family and other resources you may need", explained Ms Lowery.
On King's Square, the policing team will be offering advice on any police concerns, along with displaying police vehicles, quad bikes and drones. Gloucestershire Fire and Rescue Service will also be present with a Fire appliance and showcasing SkillZONE, a life skills initiative between themselves and Gloucestershire County Council.
Chris Nelson, Police and Crime Commissioner for Gloucestershire says
"We welcome this initiative and encourage businesses to get involved. My office has supported schemes like this in the past, which signposted vulnerable people to places where they could find help. The Safe Space Scheme offers practical help while at the same time spreading the message that male violence against women and girls is unacceptable".
Chief Superintendent Jane Probert, Head of Local Policing and force lead for Violence and Intimidation Against Women and Girls welcomes the initiative from the partnership and is grateful for safe spaces to be more available and accessible to support those in need, creating safer communities for all.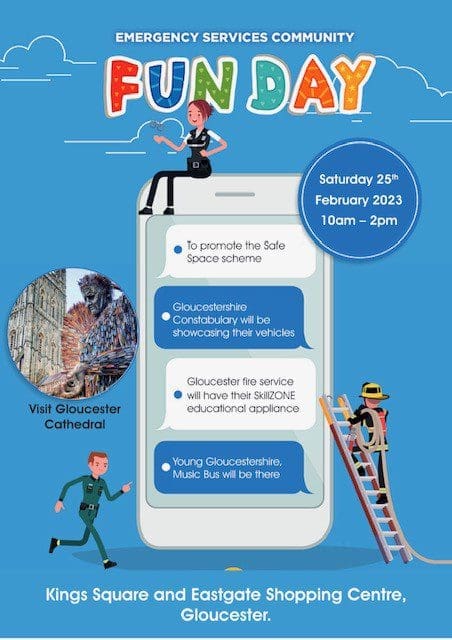 Young Gloucestershire will also be attending this weekend, showcasing the fantastic work they do for young people across the County, along with other partners supporting the event too.
Eastgate Centre Manager, Jason Robinson says
"We are really looking forward to hosting the Emergency Services day on Saturday 25th February, which will be a day to celebrate our fantastic, local Emergency Service workers and partners".
Gloucester City Safe Manager, Steve Lindsay said
"The Door Youth Club from Stroud and Dursley will also be coming over to visit the Knife Angel and have a tour of Gloucester Cathedral and we would like to thank all the volunteers who have supported this trip, it is important that visitors to the City get to see this monument. Gloucester BID and City Council have been instrumental in supporting the launch of the Safe Space scheme here in Gloucester. The success in Stroud and feedback on the scheme from businesses and the public has been fantastic and it is great to roll this out in Gloucester supported by our City Safe scheme".