Safety and Security:
Over the last 3 months the City Protection Officers, who are funded in partnership with Gloucester City Council and the Gloucestershire Police and Crime Commissioner have:
Responded to over 2000 call outs from businesses

Responded to 900 Welfare Checks

Responded to 1140 cases Street Drinkers

Reported 47 incidents of rubbish and fly tipping

Dealt with 393 reports of Anti-social behaviour and 304 of suspicious behavior

Responded to 99 cases of shoplifting and have issued 17 cards on the Gloucester City Safe scheme.

£4913.16 stolen goods have been recovered.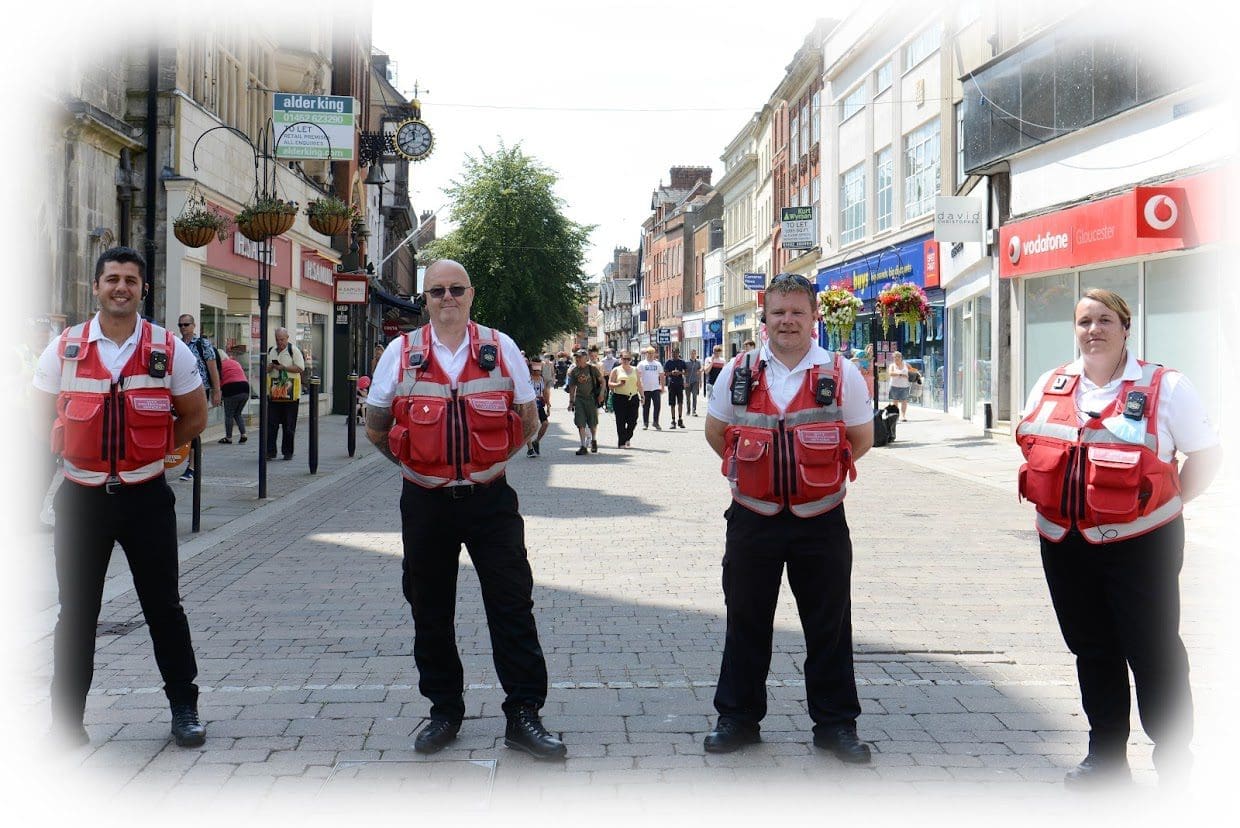 The City Protection Ofiicers have been nominated for an Impact Award, organised by the Office of the Police and Crime Commissioner, and have been awarded the Crime Prevention Award which they will receive at the end of November. Well done team, fantastic work.
Student Moving in Day and Hartpury Freshers Fayre:
Gloucester BID, Gloucester City Council, Gloucester City Safe, CPOs and Gloucestershire Police PCSOs welcomed the students moving into the City Heart residents in mid-September, where we talked to parents and students about Purple Flag and the city's safety measures. We also gave out maps of the city, lateral flow tests and, of course, noodles courtesy of Gloucester City Council's City Improvement Team. The Visit Gloucester team and Gloucester BID also had a stand at the Hartpury Freshers Fayre, where maps of the city and water bottles, kindly sponsored and donated by Gloucester Quays, were given away.
Purple Flag:
As well as welcoming the students and educated them about Purple Flag, October was the dedicated month to raise awareness of Purple Flag. To kick start the month we, with our partners, launched the 'Night Safe Officers' which are the former 'Taxi Marshals' rebranded and with further responsibilities. https://www.gloucesterbid.uk/news/gloucesters-nightlife-even-safer-with-the-launch-of-city-night-safe-officers-2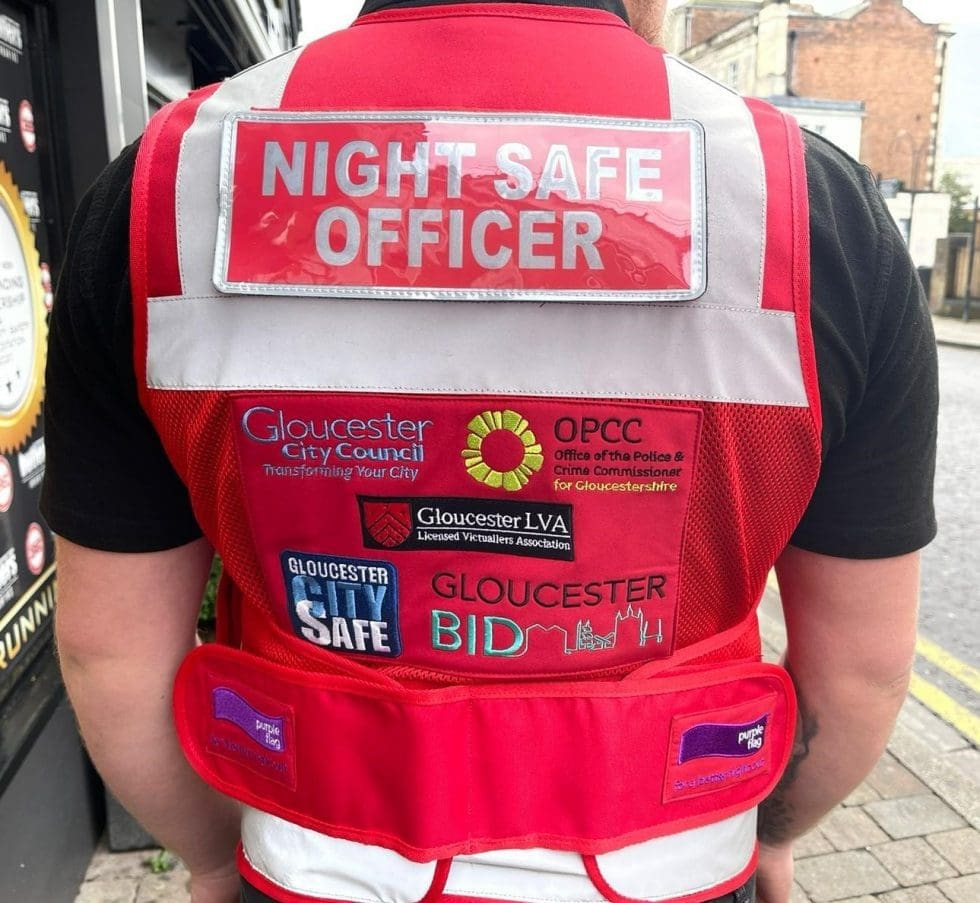 We have also worked with partners to light up places purple and a big thank you to Gloucester Quays and the Civic Trust for lighting up their buildings.
We have provided bottled water for NTE and the LVA to hand out to those in need and Gloucester City Safe have provided branded umbrellas for all LVA door staff.
The Purple Flag partners met in October to discuss the importance of Purple Flag and talk about the multi-sector partnership that we are very lucky to have in Gloucester. This is one of the five important factors that go towards a Purple Flag accreditation, the others being wellbeing, movement, appeal and place. Gloucester is due for its reassessment in January, looking forward to keeping Purple Flag status for a fourth year. Gloucester BID will be supporting this application alongside Gloucester City Council, Gloucestershire County Council, Gloucester City Safe, Gloucestershire Police and Crime Commissioner, Gloucestershire Police and Gloucester LVA.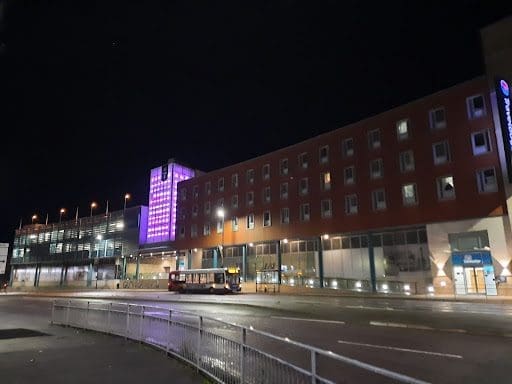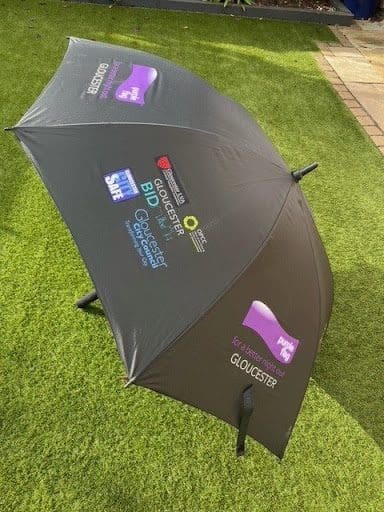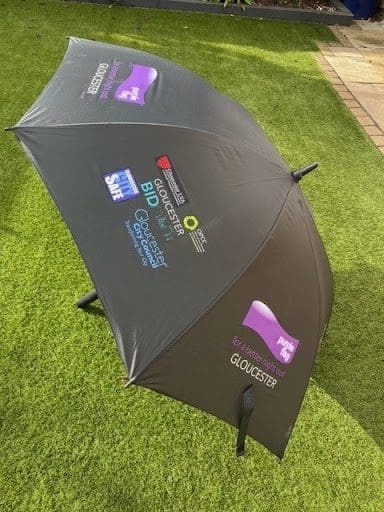 Attractive City:
Art in the City:
You may have noticed artwork popping up on utility boxes around the city. Thanks to joint funding from Gloucester City Council and Gloucester BID, local artists have been decorating the various power boxes in Gloucester. #BouncingBack.
Dressing:
Along the inner ring road we installed flags on the lampposts, designed by Visit Gloucester we put up the 'Welcome Back' and 'Gloucester Goes Retro' flags, which have been replaced with Bright Nights, Autumn, Gift Card and Mi Rewards flags.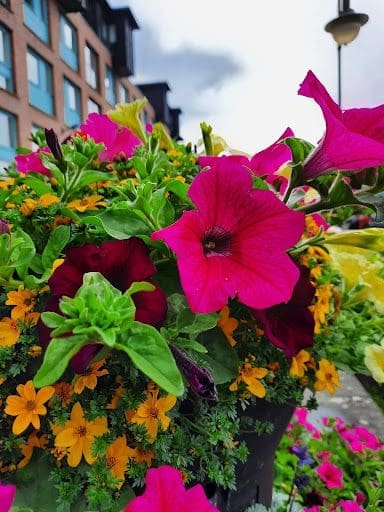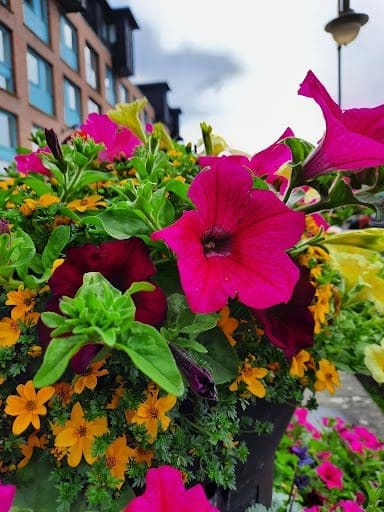 Summer Planters:
Our summer planters added colour to the city during the summer months and this year we chose a bee friendly variety, so hopefully it made some local pollinators very happy.
Dual Purpose Recycling Bins:
In partnership with Wrap and Gloucester City Council, we funded 12 new dual purpose bins for the Gate Streets. These bins have a separate bin for plastic bottles and cans, allowing Urbaser to recycle more. Big thank you to Roy from Urbaser who has been installing the new 'Binfrastructure' and to Sara Boon who has managed the project.
Supported City:
Gloucester Gift Card:
There are now over 60 Gloucester businesses that accept the Gloucestesr Gift Card and this winter we are launching the contactless version that will work through your phone or watch! Keep your eyes peeled for more information.
Over the last three months the top 10 most popular businesses to spend a gift card:
Knobbly Cob

Hooker & Eight

Boswell's Cafe

Marks & Spencer – Eastgate

Idun Spirit

Jane's Pantry – King's Walk Shopping Centre

Jane's Pantry – Cathedral Quarter

Farmhouse Deli – Southgate

The Entertainer

Greggs – Southgate
Mi Rewards Gloucester:
Like the gift card we have had an increase in registered businesses, which allows more consumers to earn more points in the city. The points earn users prize entries and we've had prizes such as a GL1 membership to £250 Gloucester Gift Cards up for grabs.
Over the last three months the top 10 most popular businesses to earn Mi Rewards Gloucester points:
Marks & Spencer – Eastgate

McDonald's

B&M

Farmhouse Deli – Southgate Street

Jane's Pantry – Kings Walk Shopping Centre

Gloucester Brewery

Bangkok Canteen

Brewhouse & Kitchen

Knobbly Cob

Gloucester Guildhall
Double Points Week 16-24 October went very well – thank you to all of the businesses that put their posters and strut cards up. If you need fresh marketing items (window sticker, strut cards A4/A5) please get in touch
If you would like to register to be a Mi Rewards Business, please email us: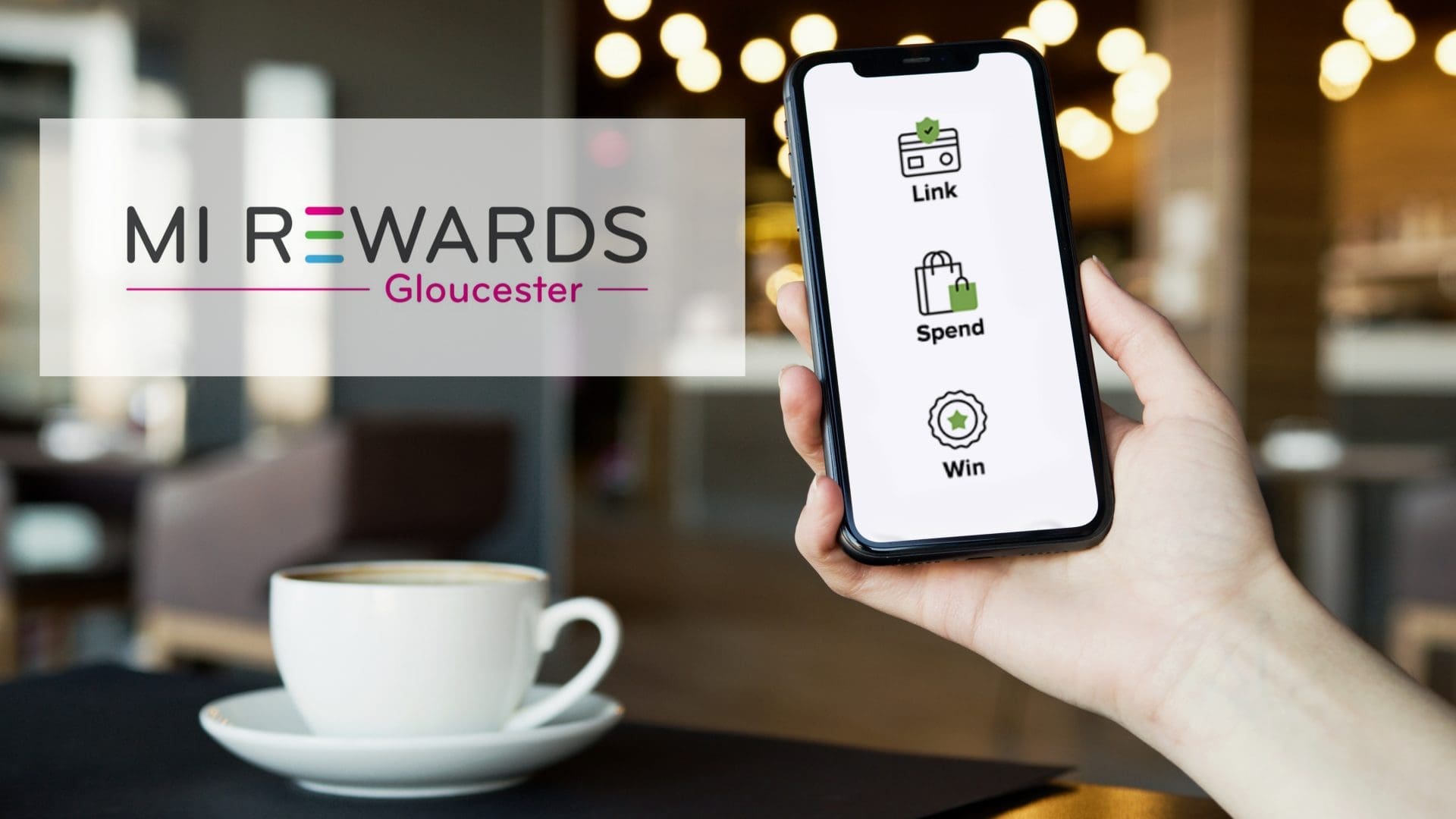 Events and Campaigns:
My Summer Passport – Gloucester BID sponsored this trail, along with Gloucester Quays, 18 businesses were involved, and it saw 1400 individuals taking part in the activity with 1100 completing the trail and collecting their water bottle. Digitally there were over 4000 engagements with a 12000+ reach.
Gloucester Goes Retro 28th August: along with Gloucester City Council, Gloucester BID funded and supported the return of GGR to the city. This year there were 326 vehicles and an estimate of 45000 visitors to the event. It was amazing to see the city, both Docks and Gate Streets, filled and animated, a great way to start our final year of this BID term.
https://vimeo.com/616018401/19f5070dc7
.
October Feast: 16-24 October: In support of Purple Flag month, we collated the evening dining out offering in Gloucester and promoted it through So Glos and Visit Gloucester. It was great to see all the different choices we have in Gloucester. We are doing something similar for all Christmas offerings too – please send your Christmas menus and details to Lesley
Halloween: We have supported Visit Gloucester and both King's Walk and Eastgate Shopping Centre with their variety of Halloween events that have been on this year. One being Gloucester's Creepy Crawl, a trail to help Wanda the Witch find all her creepy friends and magical items.
Bright Nights: October 29th to End of February 2022. We are delighted to be able to support this year's Bright Nights. These fantastic light installations will bring light, colour and joy to the city. https://www.visitgloucester.co.uk/brightnights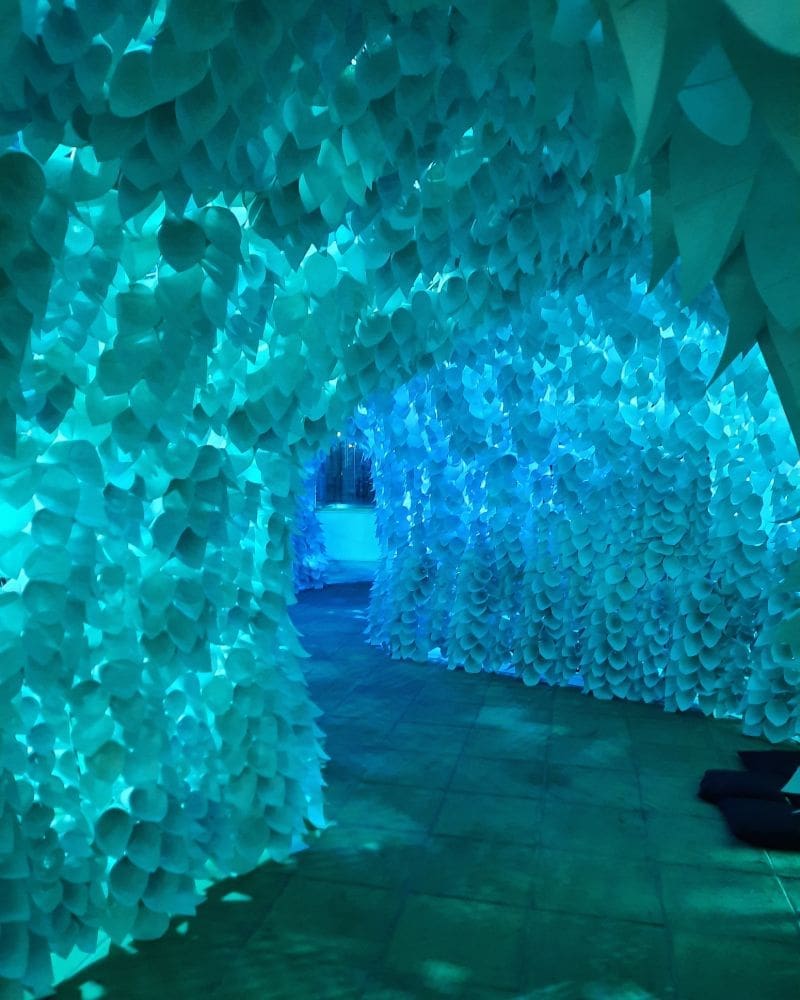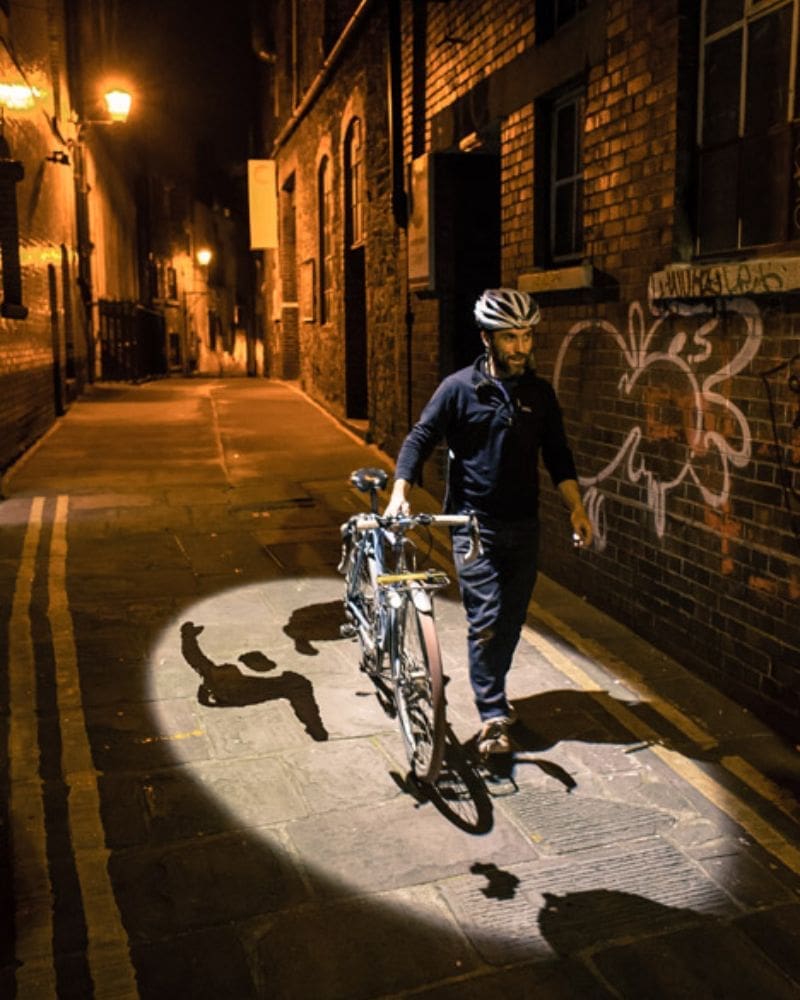 Lantern Procession: November 21st saw the return of the much loved Lantern Procession with its alternative route through the city.
Runaway Reindeer Trail: Watch out for 12 5ft reindeers that will be lost in Gloucester for 6 weeks from 22nd November. All 12 reindeers, designed and illustrated by local artists, will be hidden in various venues in Gloucester – can you find them all and work out the clue?
Gloucester Folk Trail: Back for its fifth year Gloucester Folk Trail returns 18-20 February. Time to get your folk on! Business in Focus:
Since August 12 Business in Focus articles have been written up and published on our website. They have been on independents, charities, nationals and collectives. If you'd like to be our next BID Business in Focus, please contact Lesley .
Networking:
Since the beginning of the year we have been hosting an Indie Business Networking on the last Thursday of the month 5pm-7pm. The first few were on Zoom and then we met in person over the summer and onwards. It is a very gentle and positive networking opportunity, worth popping in your diaries.