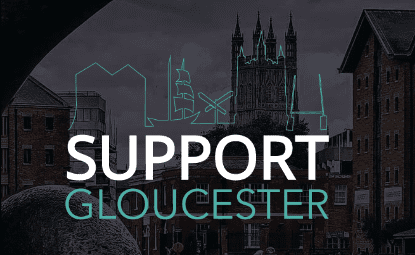 Gloucester's Local Businesses need your support. With so many businesses affected by COVID-19 and the closures necessary for all of our safety, Gloucester BID launches a way to help local businesses by making it easier to see where people can shop locally and support our local...
read more
A firm of welding specialists based in Gloucester has helped a team of disabled racing drivers after it had some key equipment stolen. R-Tech Welding Equipment, a leading manufacturer and supplier of welding machines and plasma cutters to a range of industries,...
read more
TWITTER
GloucesterBID@GloucesterBID
A business-led and business funded body formed to improve a defined commercial area // 📢 Introducing the Gloucester Gift Card and Rewards Scheme 🎁💳
Total Tweets4.60K
Followers2.03K
Following898
GloucesterBID @GloucesterBID

Janes Pantry@pantry_janes
Total Tweets3.64K
Followers1.43K
Following1.71K
WHAT ARE YOU LOOKING FOR IN
GLOUCESTER?
GLOUCESTER BUSINESSES SAID YES TO GLOUCESTERBID.
WE SAID YES TO ACTION IN THE FOLLOWING 8 KEY AREAS;
A 'Business Improvement District'. Gloucester's is made up of 576 businesses who voted in July 2017 to invest approximately £2.5 million back into the city.
In Gloucester, the defined BID Area encompasses the City centre, the Docks area and including Gloucester Quays. Click here to view a graphical map.
The BID Board is made up of a range of local business owners and professionals, volunteering their time to help the city they're passionate about.