A new Christmas competition has launched giving people the chance to win a £1500 Gloucester Gift Card. 
The Great Town and City Christmas Quiz is a national competition where places all around the UK compete against each other for a chance of being crowned the smartest Christmas town or city of 2020. Places are ranked on the leaderboard, and over 70 towns and cities have taken part so far.
.
The Gloucester Gift Card has been active in our area since 2019, and is a multi-venue gift card that is designed to encourage local shopping, and keep money locked into the area. It is part of the award winning Town and City Gift Cards programme from fintech Miconex, active in over 50 towns and cities around the UK and Ireland.
Each Gloucester Gift Card is a prepaid Mastercard and can be spent locally in shops, restaurants, cafés, leisure venues and on services- including at The Candle Tree, GL1, Gloucester Guildhall, Yanto's Pancake House and Gloucester Framing.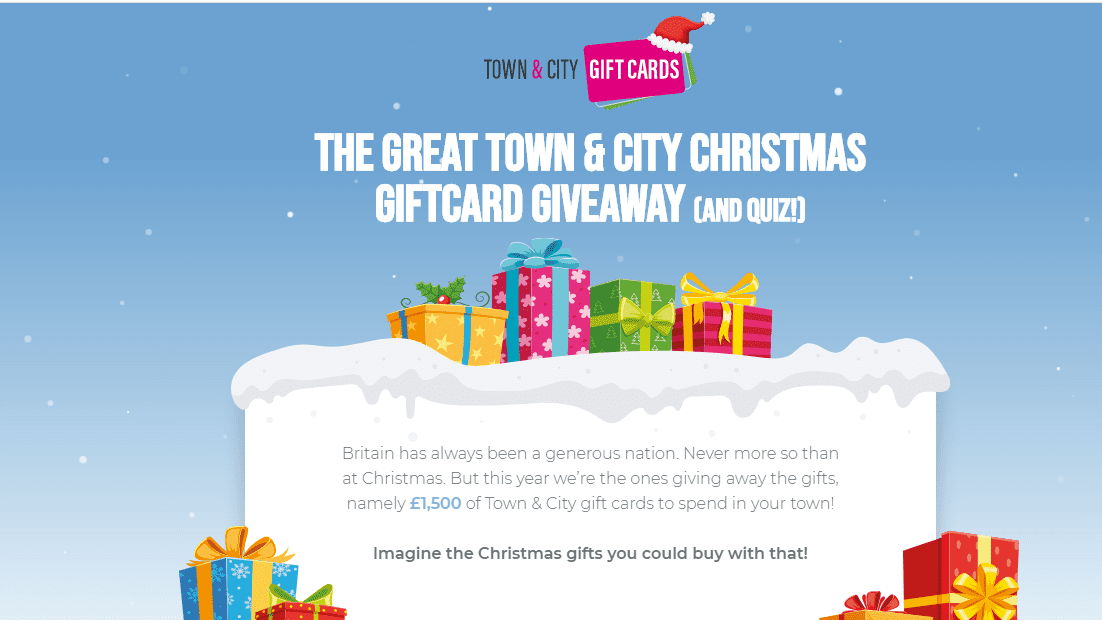 Research from Visa and the Centre for Economics and Business Research has shown that shoppers can double the amount of money that stays in their local economy by consciously choosing to shop local, also suggesting that 81% of people are supporting local businesses more this year.  
Town and City Gift Cards are multi-venue gift cards that can be spent across a wide variety of shops, restaurants, leisure and services in a particular town or city. Data from the Gift Card Voucher Association suggests that the popularity of multi venue gift cards is rising, to 37.7% of all gift cards purchased in October, from 36.9%. The data also revealed that 62.7% of people worry about buying single brand gift cards.
Emily Gibbon BID manager said: "Consumer behaviour has changed in 2020 as people have started to understand just how vital local shopping is to local economies. At the same time, the loss of national retailers has led people to worry about buying single retailer gift cards. The Gloucester Gift Card can be spent with 32 merchants in Gloucester.  It's a secure way to give a gift card that also offers plenty of choice for the recipient.
"I'm rooting for Gloucester to come top in the Great Town and City Christmas Quiz but I'd also love someone local to win the prize, and choose a £1500 Gloucester Gift Card. They could do all of their Christmas shopping, enjoy meals out for the next year or treat their nearest and dearest. The Gloucester Gift Card is more than a gift card, it's the key to Gloucester.''
There is much debate about the smartest place in the UK. Eurostat found that London, Scotland and the southern counties like Berkshire, Buckinghamshire, Oxfordshire and Surrey have the highest number of people who've been to university in 2019, but the Great Town and City Christmas Quiz tests knowledge of popular culture and history.
All 10 questions in the Great Town and City Christmas Quiz are themed around Christmas and famous gifts, such as the gift Ebenezer Scrooge gave to the Cratchit family, the wish made by Kevin McCallister in Home Alone and the $1.1 million gift given by Richard Taylor to Elizabeth Taylor in 1969.
To take part in the quiz, compete on behalf of Gloucester and be in with a chance of winning the £1500 Gloucester Gift Card, visit https://townandcitygiftcards.com/christmasquiz/
The closing date for the competition is 18th December 2020.
Press information
Miconex was founded in 2010 and works with towns and cities across the UK, helping to support successful local economies. Miconex developed the UK's first city wide gift card programme in Perth through its Town and City Gift Cards initiative in 2015. In 2020, over 50 cities/towns across the 4 countries of the UK are part of the Miconex Town and City Gift Card programme. This programme is designed to lock in money locally for participating businesses, drive footfall and stimulate economic activity, in effect creating a local currency through the Mastercard network. In 2018 Miconex launched MiRewards, a loyalty programme that automatically rewards consumers for spending money at registered businesses in a specific local economy, encouraging consumers to spend more in their town or city. The data and insights provided through Mi Rewards generates data and insights to help towns/cities and participating businesses to better understand customers, customer behaviour and to drive loyalty.